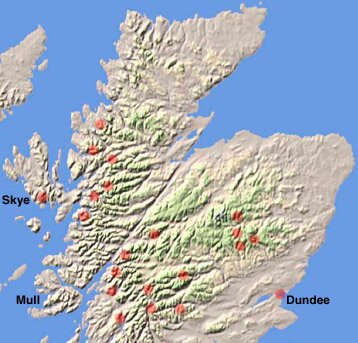 Glen Affric - 31 October - 2 November 2003
Glen Affric is one of the prettiest glens in the highlands. Less rocky than the popular areas like Glen Coe, the feel is nevertheless grand and remote. Strawberry Cottage is over four miles beyond the end of the public road, but we have a key to the gate, so we will be able to drive to within 5 minutes walk of the hut. The possibilities are endless here, with the highlights being Mam Sodhail and Carn Eighe, the highest mountains in the northwest. Also recommended are hills to the south such as Mullach-fraoch-choire and A' Chralaig, as well as many others. More relaxing is the walk round Loch Affric, and it is possible to walk to the nearest pub, the Claunie Inn, in about 3 hours!
Landranger sheets 25, 33 & 34 are suggested.