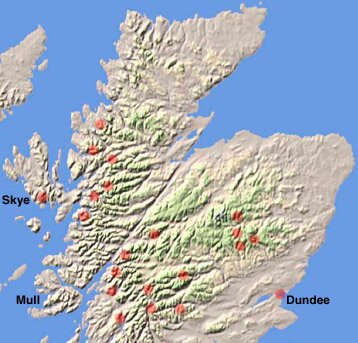 Linn of Dee - 21 March 2004
Back to the east of the country again, and to one of the most popular destinations there. Most of the walks from the Linn of Dee are very long, with extensive walk-ins on estate tracks. This only adds to the appeal, and reflects the vast scale of the Cairngorms. Without doubt the best route to do here includes Britain's second highest mountain, Ben Macdui, as well as the more shapely summits of Derry Cairngorm and Cairn a' Mhaim. Other hills include Beinn Mheadhoin and Ben Avon, but for a shorter day the Corbett of Sgor Mor is recommended for iss panoramic views of the Cairngorm plateau. There is clombing in Coire Etchachan among other places but the walk -ins are long enough to put off most climbers, who are generally lazy! Bike Hire in Braemar is a possibility to shorten some of those approaches.
Landranger sheets 43 & 36 are suggested.